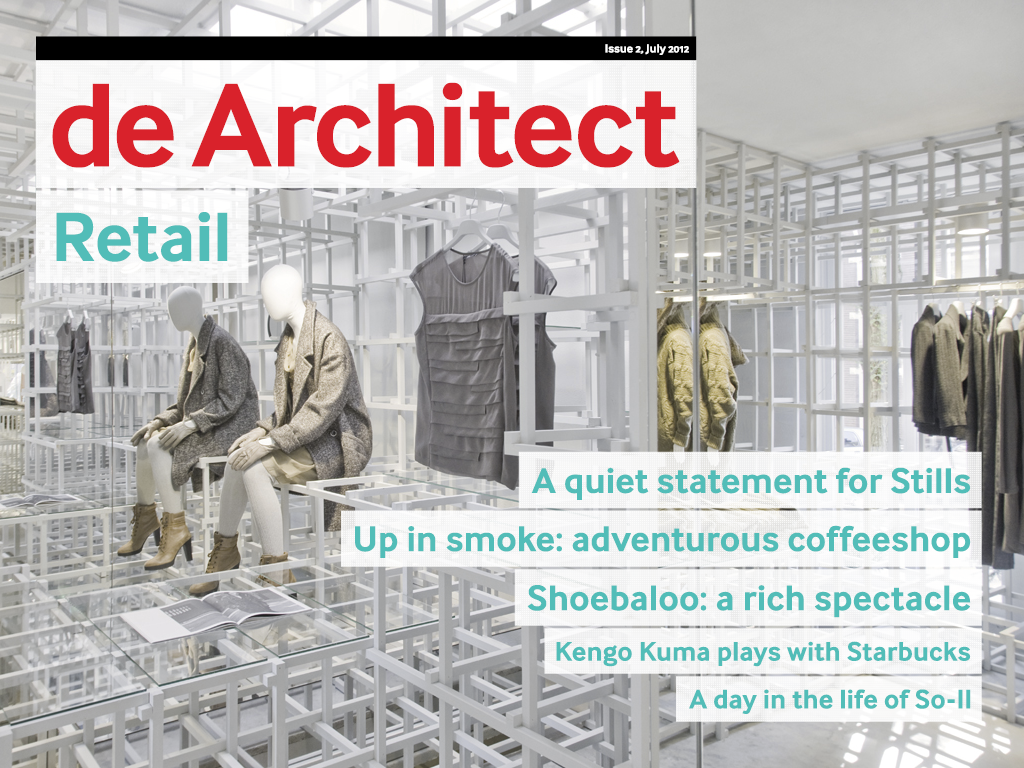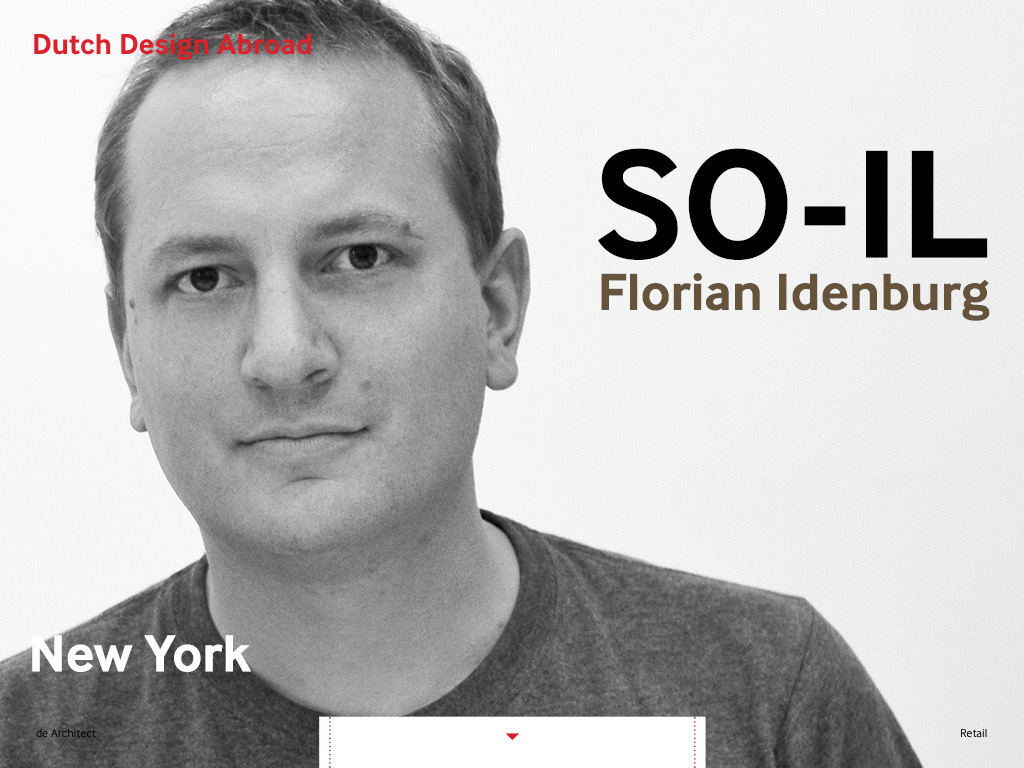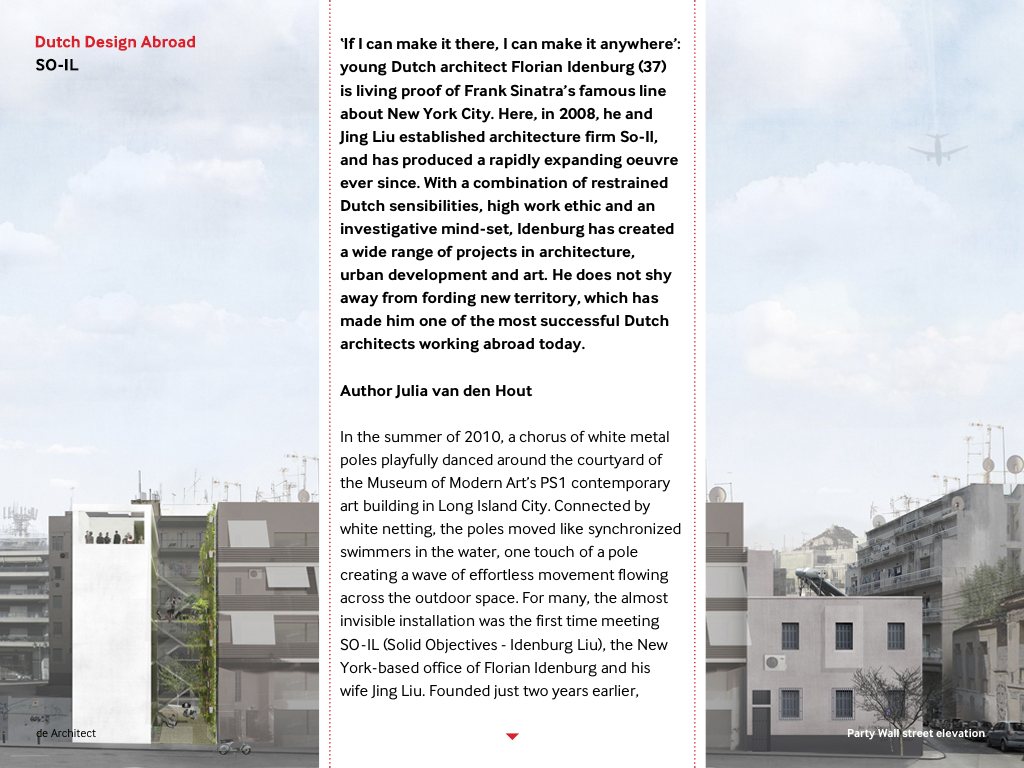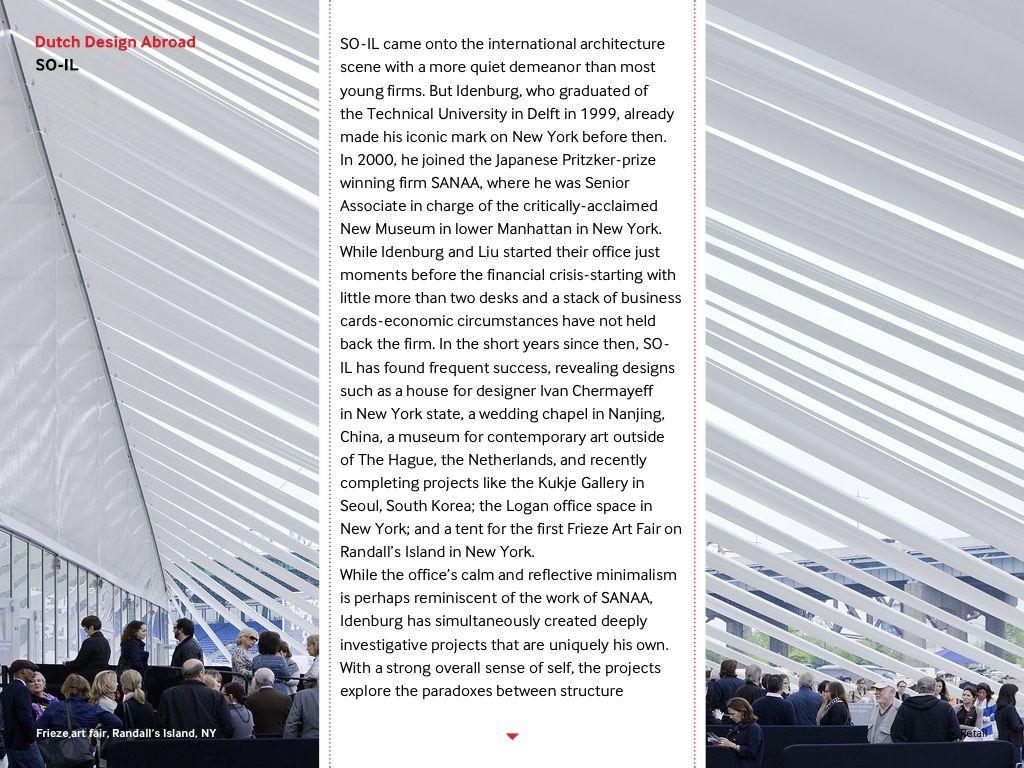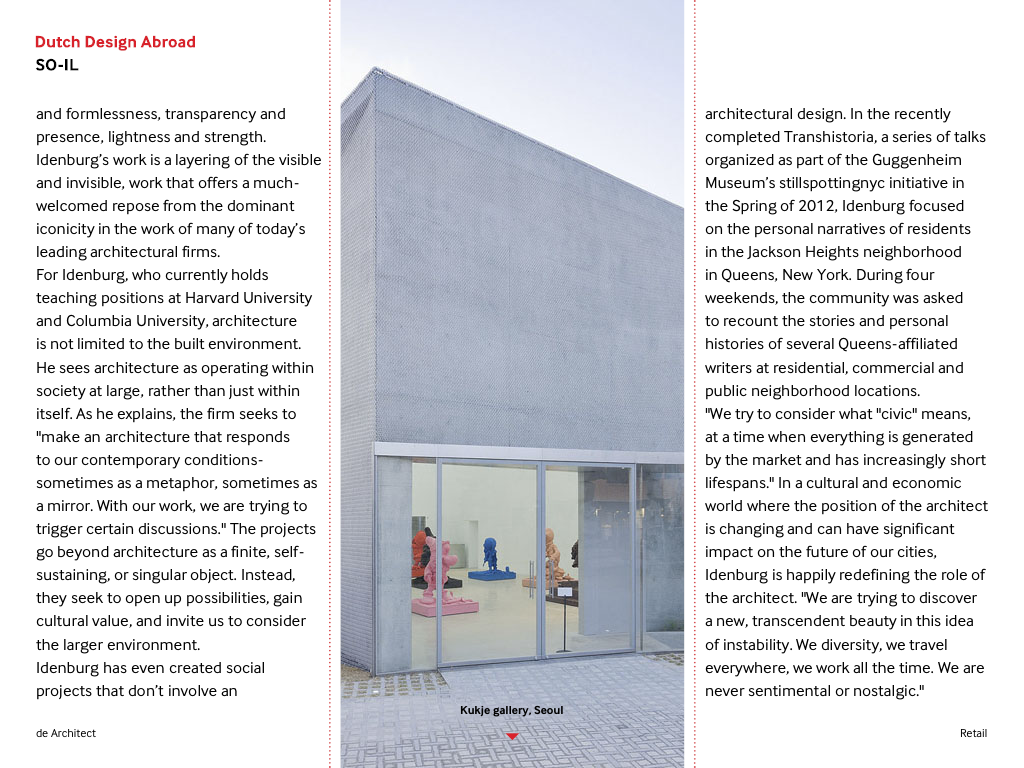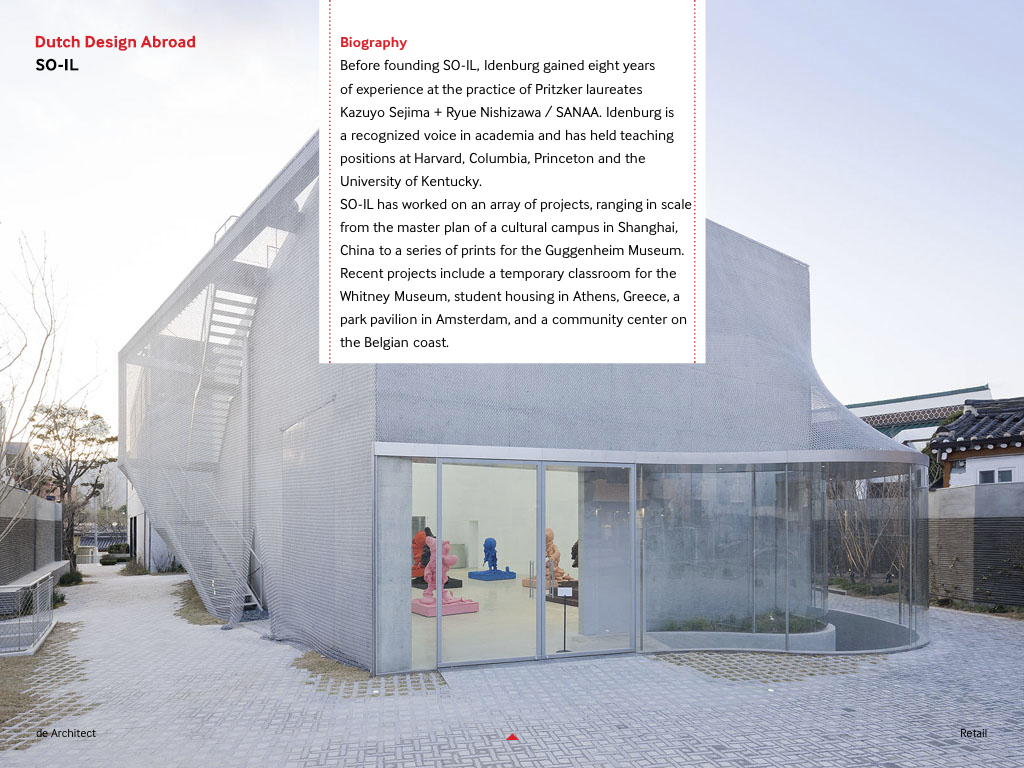 de Architect | July 2012
Dutch Design Abroad: Florian Idenburg (SO-IL)
de Architect Magazine App - ​July 2012
​
In the summer of 2010, a chorus of white metal poles playfully danced around the courtyard of the Museum of Modern Art's PS1 contemporary art building in Long Island City. Connected by white netting, the poles moved like synchronized swimmers in the water, one touch of a pole creating a wave of effortless movement flowing across the outdoor space. For many, the almost invisible installation was the first time meeting SO-IL (Solid Objectives - Idenburg Liu), the New York-based office of Florian Idenburg and his wife Jing Liu.
Founded just two years earlier, SO-IL came onto the international architecture scene with a more quiet demeanor than most young firms. But Idenburg, who graduated of the Technical University in Delft in 1999, already made his iconic mark on New York before then. In 2000, he joined the Japanese Pritzker-prize winning firm SANAA, where he was Senior Associate in charge of the critically-acclaimed New Museum in lower Manhattan in New York.
While Idenburg and Liu started their office just moments before the financial crisis—starting with little more than two desks and a stack of business cards—economic circumstances have not held back the firm. In the short years since then, SO-IL has found frequent success, revealing designs such as a house for designer Ivan Chermayeff in New York state, a wedding chapel in Nanjing, China, a museum for contemporary art outside of The Hague, the Netherlands, and recently completing projects like the Kukje Gallery in Seoul, South Korea; the Logan office space in New York; and a tent for the first Frieze Art Fair on Randall's Island in New York.
While the office's calm and reflective minimalism is perhaps reminiscent of the work of SANAA, Idenburg has simultaneously created deeply investigative projects that are uniquely his own. With a strong overall sense of self, the projects explore the paradoxes between structure and formlessness, transparency and presence, lightness and strength. Idenburg's work is a layering of the visible and invisible, work that offers a much-welcomed repose from the dominant iconicity in the work of many of today's leading architectural firms.
For Idenburg, who currently holds teaching positions at Harvard University and Columbia University, architecture is not limited to the built environment. He sees architecture as operating within society at large, rather than just within itself. As he explains, the firm seeks to "make an architecture that responds to our contemporary conditions—sometimes as a metaphor, sometimes as a mirror. With our work, we are trying to trigger certain discussions." The projects go beyond architecture as a finite, self-sustaining, or singular object. Instead, they seek to open up possibilities, gain cultural value, and invite us to consider the larger environment.
Idenburg has even created social projects that don't involve an architectural design. In the recently completed Transhistoria, a series of talks organized as part of the Guggenheim Museum's stillspottingnyc initiative in the Spring of 2012, Idenburg focused on the personal narratives of residents in the Jackson Heights neighborhood in Queens, New York. During four weekends, the community was asked to recount the stories and personal histories of several Queens-affiliated writers at residential, commercial and public neighborhood locations.
"We try to consider what "civic" means, at a time when everything is generated by the market and has increasingly short lifespans." In a cultural and economic world where the position of the architect is changing and can have significant impact on the future of our cities, Idenburg is happily redefining the role of the architect. "We are trying to discover a new, transcendent beauty in this idea of instability. We diversify, we travel everywhere, we work all the time. We are never sentimental or nostalgic."